Church of our Lady Assumed into Heaven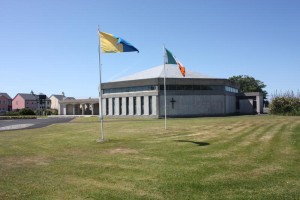 In 1976, the Church of Our Lady Assumed into Heaven was built at Doonbeg.  This striking octagonal building, seating 500 worshippers, was specifically designed to suit the liturgical requirements of Vatican II.  Once built, the bell from the old church, bearing the inscription "Me Vocante, Deum Laudate" ("At my call, praise God") was transferred to it. This church replaced the old cruciform church, which had been built in 1813.
In preparation of the forthcoming changes to schedules across the Cois Fharraige Pastoral Area we are asking people who wish to book baptisms, weddings & masses to make direct contact with Fr. Kenny at Kilkee Parish Office.
Tel: 065-9056580 or email  office@kilkeeparish.com
Doonbeg
Mass times:
8pm  Thursday & Saturday (Summer)
7.30pm Thursday & Saturday (Winter)
St. Senan's Church, Bealaha
From the 1850's, before the building of the present church at Bealaha, mass for this part of the parish was said in various houses in the locality and finally at a chapel constructed at one end of the old parochial house in Baltard.  This chapel was known as "Singleton's Room", from its former occupant, the landlord John Singleton.
St Senan's Church, Bealaha, a medium-sized rectangular structure, was built in 1869-1870.  Further renovations were carried out in 1984 when the sanctuary was re-ordered and a new lighting & heating system was put in place.
To book the Church contact Fr. Gerry Kenny, 065-9056580
Email: office@kilkeeparish.com
Mass times:
Tuesday, 8.00pm (summer)
Tuesday, 7.30pm (winter)
Mass Times at Local Catholic Churches
Kilkee:
Friday 7.30pm
Sunday 9am & 11am
Kilrush:
Monday – Friday 10am
Saturday 7.00pm
Sunday 8.30pm, 10.00am & 12.00pm
Monmore:
No mass until further notice
Lisdeen:
Wednesday 7.30pm
Thursday 8pm
Saturday 8pm
Cree:
Wednesday 8pm
Thursday 9.30pm
Saturday 8pm
Cooraclare:
Tuesday 9.30am
Friday 9.30am
Sunday 11.00am
Miltown Malbay:
Tuesday – Friday 10am
Saturday 6pm
Sunday 12.15am
Mullagh Church
Tuesday – Friday 9.15am