Doonbeg Village Bar & Restaurants
Doonbeg Village offers glorious dining options for all food lovers.  We have three restaurants open during this season – The Igoe Inn, Morrisey's Restaurant and Tubridy's Pub and Restaurant offer fantastic menu options; see below for website details for more specific information on menus and opening times.
Igoe Inn Restaurant and Beer Garden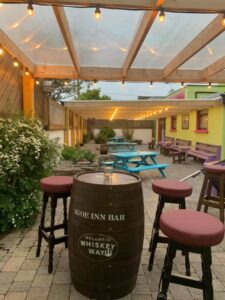 More than 100 years after it first opened its doors, the Igoe Inn in Doonbeg, County Clare, still offers the same warmth, hospitality, good food and music.  Situated in the highly desired West Clare Coast, close to all the major attractions and activities that County Clare has to offer.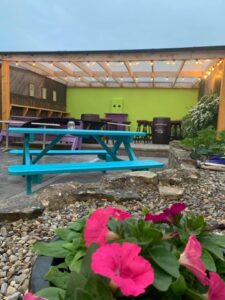 Locally acclaimed for its food, the pub has a newly renovated outdoor dining area, offering home cooked meals with local produce such as Doonbeg Bay Crab Claws and Doonbeg Salmon. The Igoe Inn currently offers a scrumptious evening dinner menu to cater for all tastes.
Morrissey's of Doonbeg
Morrissey's of Doonbeg is a family style, Irish restaurant and bar serving locally and lovingly sourced food.
We are delighted to have been recommended by the Michelin guide every year since 2014.
In 2020 Morrissey's of Doonbeg was awarded a Michelin Bib Gourmand.
Morrissey's of Doonbeg offers visitors idyllic views of both Doonbeg river & castle. Whether your dining indoors or unwinding on our terrace, rest assured our experienced and friendly staff guarantee exceptional service throughout your visit.
Visit Morrissey's Restaurant Official Website
Tubridy's Bar and Restaurant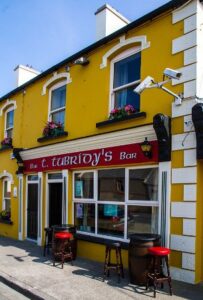 Since 1777 Tubridy's Bar has offered a great a and a fine pint. Locals and visitors feel comfortable and welcomed in Tubridy's relaxed setting.
The Tap Room Restaurant enjoys an enviable reputation for its fine food and an impressive menu offers the best the land and sea has to offer. Outdoor dining area also available.
Take away also available at Tubridy's
Visit Tubridy's Bar & Restaurant Official Website
Trump International Golf Links and Hotel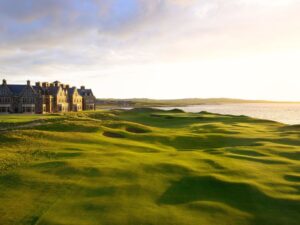 Dining at Trump International Golf Links & Hotel Ireland (formerly the Lodge at Doonbeg) is a palate pleasing experience, ranging from the hearty fare served at the namesake Trump's Bar & Restaurant to the cutting-edge fine cuisine offered by the Ocean View Restaurant.
Trump's Bar & Restaurant has spectacular views out onto the Atlantic and across the 18th green, and its atmospheric mixture of warm Irish ambience and New England panache makes for a place that welcomes guests and golfers alike. Gather around the fireside tables to indulge in hearty meals, and find comfort in pints of stout pulled to perfection at the upscale bar.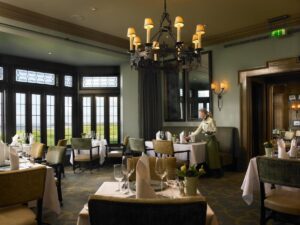 The Ocean View Restaurant, voted "Best Hotel Restaurant in Ireland 2012" by the Restaurant Association of Ireland, is in a beautiful setting overlooking the Atlantic Ocean and matches exquisite dining with impeccable service and an extensive wine-list with sources from around the world.
Visit official Ocean View Restaurant website